Intent: At Stratford-sub-Castle Primary School it is our intention to implement and deliver the Science National Curriculum in an active and relevant way, which opens horizons and supports our vision and intent for the whole curriculum.
Our curriculum is unique because of our historical and geographical location, as well as the wonderful natural environment in and around the school. These enhance and drive our curriculum. Although we are socially diverse, we are not culturally diverse. We want to develop our curriculum to increasingly extend our pupils' horizons and help them to know about and understand that the village of Stratford-sub-Castle, the city of Salisbury and the county of Wiltshire are part of a much, much bigger world.  A world which; is ever more connected and interconnected.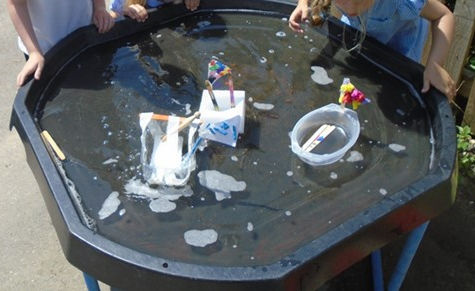 At Stratford-sub-Castle Primary School our science curriculum is designed to stimulate an active curiosity in children in order to help them find out why things happen and begin to make sense of the world around them.  By asking questions about the real world, and finding answers through first-hand experience, children will acquire scientific skills and knowledge. Children are encouraged to investigate, explore and discover through careful and safe experimentation. We aim to prepare our pupils for life in an increasingly scientific world so that they appreciate and understand the way science will affect their future on a local, national and global level.
The concepts for Science at Stratford-Sub-Castle are:
Biology – Plant, Animals (including humans), Evolution and Inheritance
Physics – Everyday Materials, Rocks, Earth and Spaces, Light, Forces and Magnets, Electricity, Sound
Chemistry – States of Matter, Seasonal Changes,
Scientific enquiry – planning and predicting, investigating and observing and evaluating and concluding
Implementation: At Stratford-sub-Castle Primary School teachers create a positive attitude to science learning within their classrooms and reinforce an expectation that all children are capable of achieving high standards in science. Our whole school approach to the teaching and learning of science involves the following;
Science is planned and arranged topic blocks by the class teacher. This is a strategy to enable the achievement of a greater depth of knowledge.
Through our planning, we involve problem-solving opportunities that allow children to find out for themselves. Children are encouraged to ask their own questions and are given opportunities to use their scientific skills and research to discover the answers. Planning involves teachers creating engaging lessons, often involving resources to aid understanding of conceptual knowledge. Teachers use precise questioning in class to test conceptual knowledge and skills, and assess children regularly to identify those children with gaps in learning, so that all children keep up.
We build upon the knowledge, skills and vocabulary of the previous learning. As the children's knowledge and understanding increases, and they become more proficient in selecting, using scientific equipment, collating and interpreting results, they become increasingly confident in their growing ability to come to conclusions based on real evidence.
Scientific skills are embedded into lessons to ensure these skills are being developed throughout the children's school career and new vocabulary and challenging concepts are introduced through direct teaching.
Teachers find opportunities to develop children's understanding of their surroundings by accessing outdoor learning and workshops with experts. Our engagement with the local environment ensures that children learn through varied and first hand experiences of the world around them. So much of science lends itself to outdoor learning and so we provide children with opportunities to experience this.
Impact
Pupil Voice: Pupil engage and enjoy their science learning Pupil's Science learning inspire a curiosity and fascination about the world and its people.
Evidence in Knowledge: Pupils have a good knowledge of the key concepts in Science. Pupils can use correct vocabulary to share their scientific knowledge.
Evidence in Skills: Pupils are able to plan fair tests and explain why they are fair. Pupils are able to take measurements and show their results in tables and graphs. Pupils are able to draw simple conclusions. Pupils are less familiar at presenting their findings in oral presentations
Breadth and Depth: Teachers plan a range of opportunities, including practical investigations, for pupils to learn Science and link to other areas of the curriculum (ie use of statistics).