Intent: At Stratford-sub-Castle Primary School it is our intention to implement and deliver the music National Curriculum in an active and relevant way, which opens horizons and supports our vision and intent for the whole curriculum.
Our curriculum is unique because of our historical and geographical location, as well as the wonderful natural environment in and around the school. These enhance and drive our curriculum. Although we are socially diverse, we are not culturally diverse. We want to develop our curriculum to increasingly extend our pupils' horizons and help them to know about and understand that the village of Stratford-sub-Castle, the city of Salisbury and the county of Wiltshire are part of a much, much bigger world.  A world which; is ever more connected and interconnected.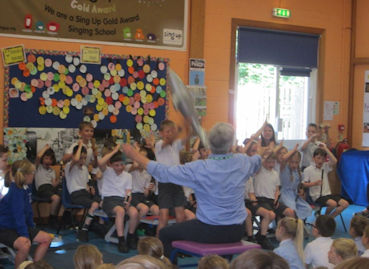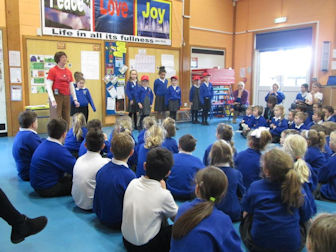 It is our intention to excite and encourage our children to love music. Music is an important part of all our lives, and lies at the heart of Stratford-sub-Castle Primary School. It enhances and enriches the lives of our children, and they love to perform and to sing together as a whole community.
Music offers our children a chance to shine, have a sense of achievement and to grow in confidence – a confidence that can be taken back into learning in the classroom.
Enjoying and sharing music is a precious gift that we love to celebrate.
The overarching concepts for Music at Stratford-sub-Castle Primary are:
PERFORMING: including singing and playing
CREATING AND COMPOSING: composing own music
LISTENING AND EVALUATING: listening and responding to music
Implementation: The elements of music are taught in music lessons so that children are able to use some of the language of music to dissect it, and understand how it is made, played, appreciated and analysed. During their time at Stratford-sub-Castle School, every child will learn how to play an instrument. In doing so understand how to create notes, as well as how to read basic music notation. They also learn how to compose focussing on different dimensions of music, which in turn feeds their understanding when listening, playing, or analysing music. Composing or performing using body percussion and vocal sounds is also part of the curriculum, which develops the understanding of musical elements without the added complexity of an instrument.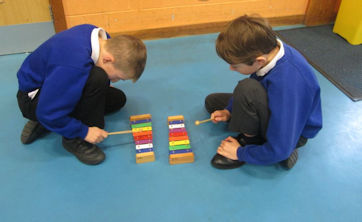 At our school, we fulfil the requirements of the National Curriculum. Music lessons focus on engaging and inspiring our pupils in order to develop a love of music and their talents as musicians. Teachers also ensure that the strands which run through the entire curriculum at Stratford-Sub-Castle Primary School are woven through lessons, where appropriate.
The planning of learning always begins with the skills and knowledge that needs to be taught and enrichment opportunities and opportunities to apply learning are carefully mapped.