Information for September 2020
Information from the FOSS: FOSSNewStartersBooklet_2020
11.09.20 LETTER TO EYFS FAMILIES 11.09.20 EYFS New Parents Presentation
EYFS Curriculum
The EYFS follows the Statutory framework for the early years foundation stage (publishing.service.gov.uk). At our school we also use the guidance from the Development Matters – Non-statutory curriculum guidance for the early years foundation stage (publishing.service.gov.uk) to help support teaching and learning.
'Development Matters in the Early Years Foundation Stage (2021) states:

'The EYFS is about how children learn, as well as what they learn. Children need opportunities to develop their own play and independent exploration. This is enjoyable and motivating. They also need adults to 'scaffold' their learning by giving them just enough help to achieve something they could not do independently. Helping children to think, discuss and plan ahead is important, like gathering the materials they need to make a den before they start building. These are ways of helping children to develop the characteristics of effective learning.'
'When we give every child the best start in their early years, we give them what they need today. We also set them up with every chance of success tomorrow.'
'The Seven Features of Effective Practice', as referred to in the document 'Working with the revised Early Years Foundation Stage Principles into Practice' by Julian Grenier, inform and underpin all our Reception year provision at Stratford-sub-Castle CE Primary School.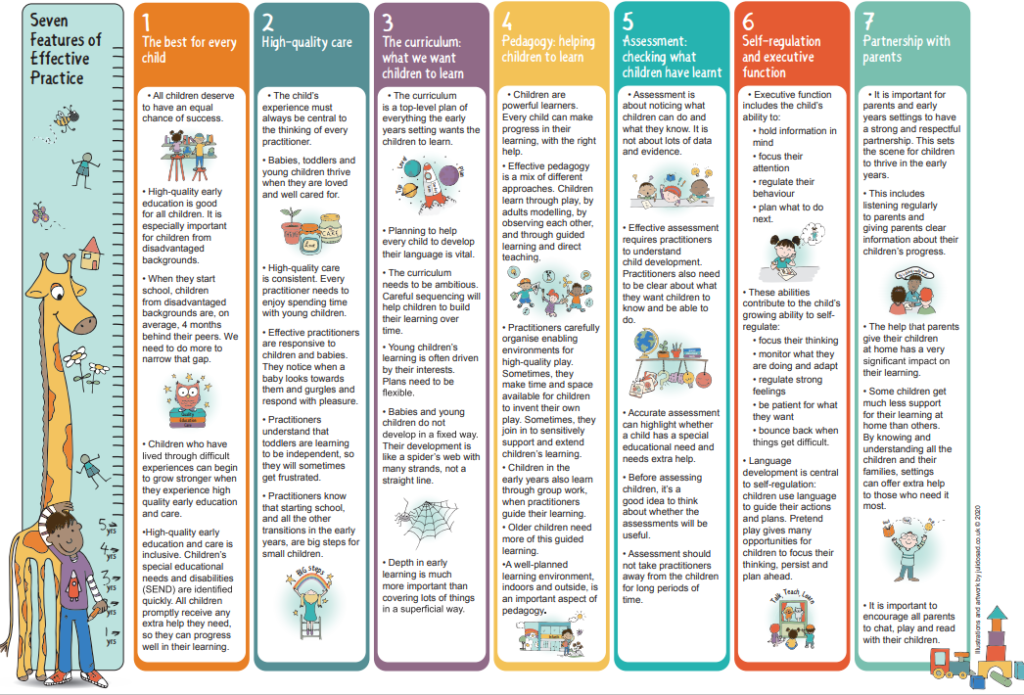 The four overarching principles that shape practice in the Early Years are:
A Unique Child
Positive Relationships
Enabling Environments with teaching and support from adults
Learning and Development
At Stratford-sub-Castle School we pride ourselves on our welcoming attitude; and our genuine commitment to building positive relationships with parents, grandparents and carers.
Our nurturing environment facilitates the development of positive relationships between children and their peers and the adults around them. Our curriculum enables children to become resilient, confident and independent learners developing important lifelong skills.
Children have continual access to provision (activities, resources and teaching) which support the Seven Areas of Learning. Staff encourage children to self-select the activities they would like to undertake. This enthuses and motivates children to explore and investigate. It also helps children to develop skills such as: independence, negotiation, risk-taking and problem solving. Children are taught and encouraged to demonstrate respect and responsibility for their environment, and each other. This involves taking care of human beings, equipment and resources both indoors and outdoors.